The warning signs are already in place: Dwindling readerships and spiraling print sales have left the mainstream fishing press with all the vitality of last night's kebab. Another fishing magazine is about to go under, I am reliably informed, while at least two others are on the brink. Meanwhile, the survivors scrabble for market position like seagulls picking through a bin. Somewhere in England's damp turf, Izaak Walton is spinning three-sixties in his grave.
Am I being overdramatic here? No, not a bit of it. But I do feel it is time to give a frank, truthful assessment of the current malaise. A decade ago, when I switched my written skills from film journalism to the world of fishing (an enjoyable road, but in financial terms a daft move), things were already slightly ominous. The fact that 99% of us did it for "love not money" was already a running joke. Writing copy for as little as £20 a page while others did it just to get free tackle. But since then, things are no rosier, with sales for the main weeklies and monthlies dropping astronomically, by over a third across the board. At present, it is a survival narrative for pretty much every title.
Fishing as a whole could be healthier, but I am unconvinced that the sport itself is in the same Shit Creek scenario as its print media. So where did this vicious circle begin? Who is to blame? And perhaps more importantly, is there a remedy?
Digital dominance?
The Internet is cited as perhaps the key reason for terminal decline. If you want to learn a method or get the latest news, you don't reach for print these days, you ask Uncle Google. The net is awash with free fishing content, tackle companies promoting their wares and, yes, blogs like this one. Sure, a lot of the content you read online is amateurish or a blatant marketing exercise, but you don't pay a penny for it.
Rather than respond to this by upping their game with better quality reading material however, many of the titles have been caught in a vicious circle. As circulations drop, funds disappear. And with tighter budgets, there follows a double whammy from increasingly disgruntled advertisers and the lure of "free" content. You already know the sort: articles that are loaded with brands and product placement but low on any discernible entertainment value. But the lure is there: Why pay someone to write for you when you can get a free article, contributed by a tackle company?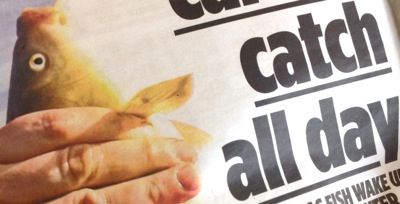 It has happened to me personally many times and continues to happen; in spite of being touted as "Britain's most promising angling writer" (not my words, but those of Angling Times), on many occasions my work has been rejected because an editor can get a sponsored angler to write for nothing. Never mind the fact that it is pedestrian, poor quality copy (even when the editorial team have had to correct or even rewrite whole chunks of it because the standard is so pathetically low).
I can understand the economics, but it does not produce quality writing- and I am not the only one being short changed by this proliferation of drivel. "Like filling space, nothing more" is how one former editorial staffer described the process. The coarse fishing titles are far more culpable here than the fly fishing media, it must be said. Why that should be I cannot say- but perhaps the better pay of game fishing titles encourages a higher standard of writing, and a better diversity of contributors than a handful of sponsored specialists.
For anyone who can tell the difference between well-crafted writing and horse shit, the free content strategy is of course a false economy. The British public, for all their foibles, can be a cynical bunch- and with good reason. All but the daftest can spot weak content a mile off- and if you populate magazines with the type of articles you can read for zilch online, why is anyone going to buy your weekly or monthly?
I rarely vent my spleen in this blog, but frankly some home truths need telling.
Are fishing blogs partly to blame, or the answer?
Others would also blame bloggers for giving away their stuff for nothing and providing a free alternative to print. But I'm not convinced. I believe blogging has been great for fishing because it allows a much more open and unrestricted space for content. People's personal journeys can be fascinating and the blogger is uncensored by what the editorial team (i.e. The corporate bastards behind the scenes who in many cases really run the show) deem acceptable, interesting or popular. Their loss, and if you think I'm wrong read the
Idler's Quest
or
Fallon's Angler blog
and tell me you can find better writing in the weeklies.
If you ask me, more of the best bloggers should be releasing traditional or digital books, rather than giving it all away for zilch. Because otherwise, like buskers who never get any tips, many will eventually get fed up and piss off. There are some great current little known writers, but the sad truth is that the mainstream is not interested.
And here lies the true fault with many of the current magazines and papers- in the search for ever more cost effective solutions they have abandoned the one thing most of us bought a magazine for in the first place: material that is worth reading. Articles that entertain, make you think or tell the reader something they hadn't read a dozen times before. But no, instead you get some semi-literate bellend from a carp company, flogging glow in the dark boilies. But in true British style, we grumble and in many cases stop forking out, but never actually tell the editors how we feel.
The world of the sponsored Angler
Perhaps another key area of the current debate is the path angling writers take. In fact for any angler asking the question "how do I become a professional angler?" the most established answer seems to be to hook up with a tackle company and produce content for them. But is it any viable route for an aspiring writer, let alone someone who hopes to achieve some degree of professionalism?
My own experience has been "mixed" to put it mildly. Most of these companies want cheap advertising and digital savvy anglers. And as great as a title like "Angling Consultant" might sound, the majority are totally unpaid. They get free tackle in exchange for doing x, y and z to advertise their wares.
My couple of seasons with Hardy Greys were eye-opening in this respect. They were keen to take free blogs, photography and all the rest, but not prepared to provide anything other than a modest tackle budget in return. In truth, the whole "it'll be good for your profile" spiel soon wears thin as the unpaid work stacks up and you start to wonder who really benefits from the arrangement. Nor am I ever keen on having my words constantly dotted with tackle references- and I'm quite sure that most readers would feel the same.
Perhaps the tipping point was my appearance on National Geographic's King Fishers series. Huge fun, but huge pressure, this was the biggest single week of my fishing life. I was hosting in England and needed tackle to supply the home leg of the event. Could Hardy Greys supply three fly rods, given that the show was going out to an audience of some 60-80 million worldwide? No. I was still waiting for the punch line as they said they didn't have the budget. Maybe that was the punch line? You can provide us with content, photography and all the rest, but you can't have three of our finest Korean made fly rods.
In some ways, I was relieved to be able to crack on with what I love without any obligations. But closer to home, I must say I have found Turrall Flies a much better company to work with. For all the posturing about tradition and trust from Hardy, here is a company that actually embodies those values. They have staff who are have been tying flies in Devon for decades and are more interested in keeping their customers (and consultants!) happy than the hard sell. They are also prepared to support youth events and projects such as Fly For Coarse (which Hardy Greys were not). Even more shockingly, Turrall actually wanted me to help design and test products, rather than just plug their wares, and give me backing with more than just a bit of free tackle. What a world of difference!
To cut a long story short, I would advise any aspiring angling writer to be very, very careful about hooking up with a company. There are some good guys out there, who do have a better ethos rather than pure sales figures. But tread cautiously, because many will simply chew you up, use your profile (rather than the other way round, ironically!) and simply spit you out, like a carp ejecting a shit-flavoured boilie.
In the wider debate though, you have to ask: where is the way in for the next generation of writers? Will they simply be salesmen and unpaid bloggers? Does anybody actually give a damn? The real loser in all of this will ultimately be the reader if we're not careful.
Kill or Cure?
So is there any future for anyone who wants to write about fishing for a living? Not for the first time lately, I have been viewing my role as an angling writer and the fishing media a bit like a landed bass. After my initial delight I now have a tough decision: do I let it live, or just knock the bastard on the head and move on?
For now at least, I want to keep that flame alive. I might be able to earn twice the money in half the time as a copywriter, but writing about fishing is not just a job, but a passion. And besides, there are at least a couple of reasons to be cheerful.
One of these is the rise of independent media, perhaps best represented by indie fishing quarterly "Fallon's Angler". When I use the term "indie" you might think about a garage band type outfit, but there isn't a more beautifully written or produced UK fishing title in existence currently. Totally free of advertorial content, it champions the classic fishing story, with a who's who of the best current fishing writers- almost all of whom are conspicuously missing from the mainstream (including some young chancer by the name of Chris Yates). If you value great stories and entertaining writing in any shape or form, I would urge you to buy it (
click here for the Fallon's Angler site
).
The other stalwart of the fishing scene, quite surprisingly, is the traditional fishing book. There is still a market for these. People still collect them and treasure them- even those who no longer buy a regular paper or magazine (which is a staggering proportion of anglers). If nothing else, this demonstrates that British anglers still love a good read.
Talking of books, my next title "Crooked Lines" is now well on the way (out this November). It does not contain any recycled blog posts, but lots of new and untold stories. Many of the tales in the book are the "ones that got away" if you like. Pieces that were never published either because I opted to save them rather than get the "here's £50, now f**k off" speech, or they simply didn't fit with editors who were about as bold as the Liberal Democrats when it came to leaving the safe centre ground or doing anything a bit wild, different or outspoken. For the record, many of these missing pieces also represent my very best and most daring work.
It has also been an absolute pleasure working with Sheffield illustrator Lord Bunn with the artwork.which matches the style of the book perfectly. You'll find miscellaneous tackle, bottles of booze, tangled flies, worms and even a copy of the Compleat Angler with a slightly sleazy fishing postcard sticking out of it. Someone has already labeled Crooked Lines as a "hipster fishing book", which I'm not sure whether to take as a compliment or not.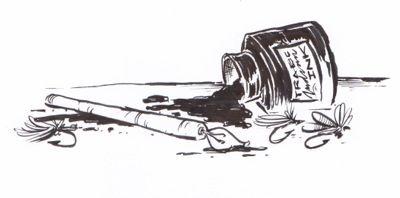 A book is hard graft then, but also liberating because you are not constrained by the straitjacket of "popular taste" (something directed by the money men to cash in on everything from pop music to cleaning products). Suddenly there is no demand to censor or water anything down, or to clip to format. The work can finally breathe and find its fullness. Amen to that anyway, and here's to a better, more independent angling media, whichever form it may take.